Serves 4:
Key nutrients per portion.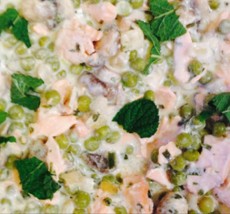 A good dish for fibre, protein, omega 3 fats, vitamin B12, vitamin D and Niacin (a B vitamin) low salt too!
This dish was inspired by the late night snack of salmon and french bread with a creamy sauce that my husband and I used to have after we had been out jiving pre kids!! This is a healthier version of that post dance feast but still with plenty of taste.
Ingredients
2 salmon steaks
8 tbsp half fat creme fraiche
1 tbsp olive or rapeseed oil
1 onion
1 clove garlic
300g frozen peas
100g button mushrooms
Juice of 1 lemon
120ml water
Handful tarragon
Mint to garnish
What to do?
Peel and finely chop the onion and garlic
Heat the oil in a deep frying pan.
Sweat the onion and garlic in the oil
Meanwhile slice the mushrooms then add to the onions and garlic
Allow the mushrooms to soften slightly then add the creme fraiche and frozen peas.
Don't overheat just gently warm the creme fraiche through
Put the salmon in a microwaveable dish and cook on full power for about 2 minutes.
Lift the salmon off the skin. Discard the skin and fork the salmon into chunks.
Add the salmon to the creme fraiche mix, squeeze in the lemon juice and stir. Chop the tarragon and stir through.
Season with freshly ground black pepper and garnish with a little mint
Serve with wholemeal pasta or wholemeal cous cous and a side salad.