Serves 4:
Nutritional content per serving (427g/quarter of the pizza).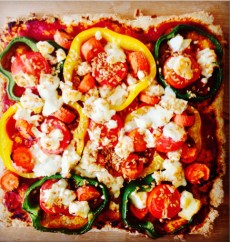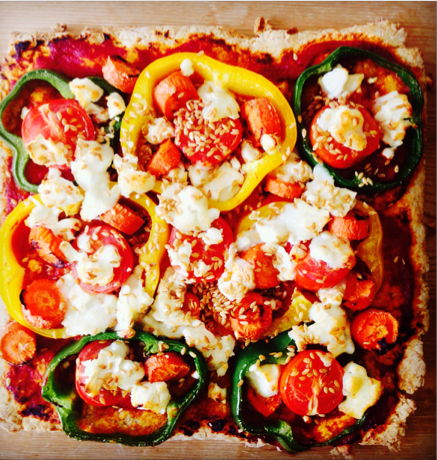 A nourishing and filling dish packed full of vitamin A for healthy eyes and connective tissue and vitamin C for healthy gums and connective tissue. A good way to get fibre too and low salt. If you want to get the fat content down halve or remove the goats cheese or just have less fat over the rest of the day.
I used to make this dish for my family when I was a teenager. The vegetables should be kept really chunky as this makes for maximum taste and maximum nourishment.
Ingredients
125g white self-raising flour
125g wholemeal self-raising flour
50g butter
2 eggs
3tbsp tomato puree
3tbsp water
2 large carrots
4 tomatoes
1 green pepper
1 yellow pepper
50g goats cheese
25g flaxseed
What to do?
Set the oven to 200 degrees Celsius, Gas Mark 6
Slice the carrots thickly and place on a baking sheet in the oven for about 20 minutes
Sieve the flours and rub in the butter until the mixture resembles fine breadcrumbs
Cut the tomatoes in half, thickly slice the peppers and roughly rip up the goats cheese
Lightly beat the eggs and then add to a well in the centre of the flour mixture, and bring the mixture together into a dough
Dust the work-surface with a little flour and roll out the dough into a square – if you like it crispy create a bigger, thinner square
Mix the tomato puree and water and spread over the pizza base
Arrange the vegetables including the roasted carrots over the base, crumble on the goats cheese and sprinkle with the flaxseed. Bake in the centre of the oven for about 20 minutes.