Serves 4
Key Nutrients per Portion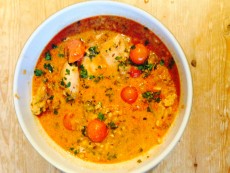 This low fat, low salt (if made with water rather than stock) dish is great for heart health and a good choice for anyone trying to keep their weight down. The tomatoes add great flavour and bump up the vitamin A and C for great night vision and healthy teeth and connective tissue.
Ingredients
200g chicken thighs
1 onion
1 clove garlic
1 tbsp rapeseed oil
1 tsp smoked paprika
1 tsp caraway seeds
1 tsp sugar
250ml reduced salt chicken stock or water
1 x 400g tin tomatoes
250g baby tomatoes
1 tbsp wine vinegar
2tbsp tomato puree
1 tbsp half fat creme fraiche
parsley to garnish
What to do
Peel and chop the onion and garlic
Heat half the oil in a deep frying pan and gently fry the onion and garlic until soft.
Add the paprika and caraway seeds. Remove from the pan and set aside.
Add the remaining oil to the pan and fry the chicken thighs to slightly brown them.
Meanwhile make up 250ml chicken stock with a stock cube and boiled water and add the vinegar, tinned tomatoes, tomato puree and sugar.
Once the thighs have browned slightly add the stock mixture and the tomatoes. Cover and simmer until the chicken is cooked through
Meanwhile take the half fat creme fraiche out of the fridge and allow it to get closer to room temperature – this will help prevent curdling.
Chop the parsley
Once the chicken is cooked turn off the heat and allow the ingredients to cool a little before adding the creme fraiche. To speed things up you can always add a little sauce to the creme fraiche first and then mix it all in together.
Add the parsley reserving a little to garnish.
Serve with wholegrain basmati rice and salad or vegetables of your choice.