Serves 4:
Key nutrients per portion.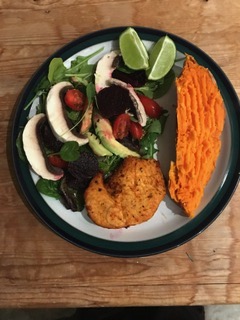 Ingredients
4 x 120g turkey breast fillets
4 cloves garlic
2cm (thumb sized) portion fresh ginger
2tsp fresh lime juice
20g fresh coriander
1 tsp chilli flakes
1/2 tsp garam masala
What to do?
Peel and roughly chop the garlic and ginger then blitz in a food processor with the lime juice and most of the coriander (reserve a little to garnish.)
Stir in the garam masala and chilli flakes.
Wash and pat dry the turkey breasts and score them diagonally.
Spread the spice mixture over the turkey rubbing in well.
Place in a dish with any remaining spice mixture, cover and place in the fridge for at least a couple of hours but preferably overnight if you can.
When you are ready cook the turkey breasts under a medium grill for about 20 minutes or until the flesh is thoroughly cooked through.
Garnish with coriander and serve with salad and wholemeal pitta bread or a baked sweet potato (as shown.)