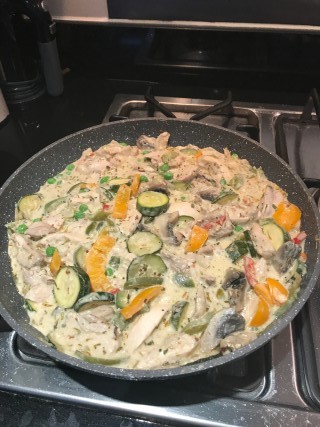 A great low fat, low salt, low calorie, high fibre, high protein dish with plenty of vitamins and minerals. Serve with a green salad with a lemon juice dressing and a 50g serving of wholegrain pasta and you have a filling, tasty balanced meal coming in at around 500 calories. I cooked this using a "Granitline" pan. Using a specialist pan like this allows you to cook without oil or fat. Other brands include "Eaziglide" and "Regis."
Ingredients
500g chicken breast
1 onion
4 cloves garlic
1 red pepper
1 orange pepper
2 courgettes
400g mushrooms
100g frozen peas
200 ml half fat creme fraiche
200 ml water
2 tbsp wholegrain mustard
2 tsp dried marjoram
2 tsp dried sage
What to do?
Chop the chicken into chunks. Heat the pan on a high heat. Add the chicken and immediately turn the heat down to medium. Cook until slightly brown and then turn the heat right down to cook the chicken through, stirring from time to time. Once cooked remove and set aside.
Chop the pepper and courgette. Heat the pan back up to a high heat and add the pepper and courgette. As before turn the heat back down straight away and stir "fry"
Peel and chop the onions and garlic, add to the pan and continue to stir "fry"
Chop the mushrooms and stir "fry" everything for a couple of minutes
Mix the creme fraiche with the mustard, water and herbs and add to the pan with the chicken.
Add the frozen peas and bubble until cooked through.